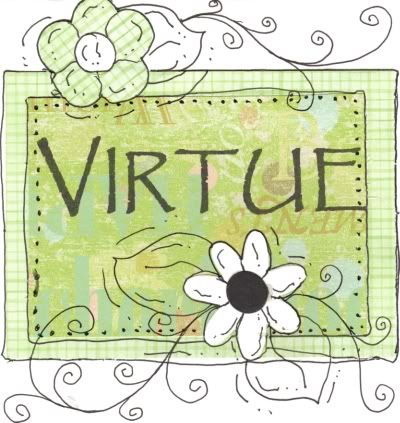 Virtue: a characteristic of a person which supports individual moral excellence and collective well-being.
Doesn't that sound like an admirable trait?
We may be born with moral excellence and collective well-being, but as we grow and mature virtue is challenged on a daily basis.
We work on virtue every single day of our lives. It's tested as we meet one obstacle after another. The choices we make reflect on our moral excellence and collective well-being.
Looking at virtue through the lens of a writer, we operate from the position of choice and responsibility. We make a choice about what we write, and we are responsible for that choice.
Case in point, I'm sure you've heard in the news lately about the woman who was a trusted member of a romance writers group who seemed to be very successful, having had several of her stories published. Many of her friends had her read their work and help them. Little did they know that she had built her success on the hard work of others. She had copied other writers books and used them as her own. I feel bad for the writers whose work she plagiarized, but I also feel sorry for her. She crossed the unwritten moral codes of being a writer:
never plagiarize and always give credit where credit is due
. The choices she made tarnished her virtue.
The writer who truly has virtue and is successful does it the hard way. They study their craft, read everything they can, and write, write, write.
Do you think that writer will ever regain her virtue? Or can she? What would you do if you found out someone plagiarized one of your stories?