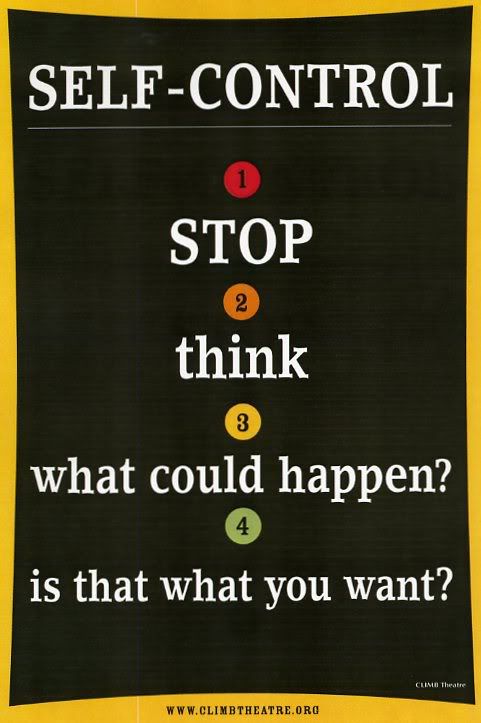 Self control is a virtue every person should aspire to achieve.
Self control breaks down to choices. We choose how we react to given situations.
However, I think an exception to this is if you hear of a loved one dying. When I received the phone call that my father had unexpectedly died, tears automatically rolled down my cheeks. It was total reaction to something beyond my control.
Another exception, when suddenly scared out of my mind, I scream or freeze. Both reactions just seem to happen.
And yet another exception, when I'm extremely happy a smile comes to my face.
But wait a minute . . . it's only human to react to situations with emotion. But self control is learning how to contain those sudden emotions and master them.
To master self control perhaps we should:
1) Stop
2) think
3) what could happen?
4) and is that what you want?
Hmm, so yeah, when I'm happy I'm going to smile. And when I'm scared, well I'd rather not freeze and scream, I'd rather take stock of the situation and act. But when a loved one dies, it's perfectly all right to cry. I guess I've already decided that.
What about the characters in your story? Do they have self control? It's okay if they don't. They are only characters written by humans who are also struggling with self control and we want our characters to ring true. A writer needs to show characters struggling with their emotions, characters with flaws, and characters learning self-control.
We (writers and characters) are all learning the virtue of self control.
Have you ever written a character who has struggled with self control?