Do you have projects that are half finished?
I have a couple of unfinished projects and every time I walk past them, they call to me, wanting my attention, but I don't have time to finish them, so I turn my back and walk away.
The two projects on my desk in my library/sewing room are
a photo album for my grandson and a warming pad.
The photo album I started way back in 2008. How do I know the date? Silly me, I put the year on it. Do I feel guilty and like a slacker Grandma? Yes!
The warming pad is a recent project. All I need to do is sew it, fill it with rice or wheat, and it's good to go.
Now I bring up unfinished projects because my goal this month is to have more
diligence
in my life. If I'm going to become more diligent I need to get the lead out and finish projects I've started or get rid of them.
This week I plan to finish that photo album and get that warming pad sewed. Now that you know about my intentions, I'm pretty much stuck and have to get these two projects done.
I started this post by asking you if you have unfinished projects. Come on, fess up. If I'm committing so can you. Take the challenge with me and finish those projects this week unless they are enormous and need more than a week. In that case commit to working on that
enormo
project until it's finished. Give yourself a deadline of when you want to have it completed and then get busy.
Because I'm in the finishing mode, Thursday's blog will be tips on how you can push through and finish that book you've been writing for years.
Our goal is to have more diligence and finish things!!!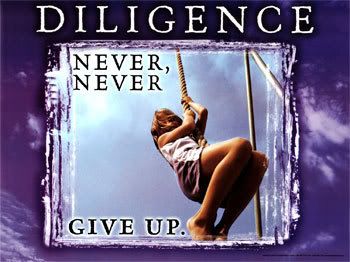 In case you're interested . . .
The other day I was watching Glenn Beck. This year he has challenged people to work on one value a month. He's using values that George Washington tried to live by. Yes, that George Washington. If you want to learn more about Glenn's challenge check out
Being George Washington
. Glenn has a free monthly tracker you can download and keep track of your progress. Plus, he has baseline items that you can work on to help you achieve your goals. Pretty nifty.