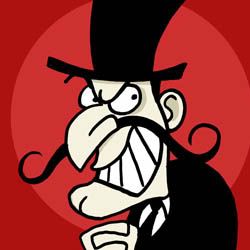 One-dimensional villains are very easy to write. All the reader knows is how very wicked and devious he/she is through actions and words. This is fun for melodramas where the audience hisses and boos, but for a murder mystery or suspense not so much.
The challenge for the mystery/suspense writer is to give layers through motivation, and logic to many characters including the villain.
For a mystery the longer you can hide who the murderer is, the better. Layer the villain with history right along with the other important characters in the book. Let us see what his childhood was like in a short flashback. He could have come from the ideal home, but something happened when he went to college. Or he could have had abusive parents. Or . . . you see where I'm going. You could also give clues by what he/she says. Is she always negative and then cover when people look at her strangely? Is she overly optimistic in a sarcastic way? You can also give hints through thoughts, that is if you have scenes seen through the villain's eyes. This can be tricky, but if done right . . . wow!
For suspense, the villain might be revealed a little earlier. The tension is more about how the protagonist is going to get out of a life-threatening situation. Again, the villain must have layers with clear motivation and logic.
The trick in writing mystery/suspense is to give your readers an exciting challenge. Always remember as they read the question going through their minds will be, "Who did it?" Or "Will the hero get away?" So it's extremely important to play fair. Make sure to have valid subtle clues throughout the book so when the story is over your reader can go back and realize all the signs where there, but he/she missed them.
That's the best!
You can read book after book on how to do this. But in my humble opinion, I learn most by reading authors I admire and have shown me how to write through their novels.
Here's a challenge: pick your favorite author's book that you know well. Go in and mark every place the villain was on stage through thought, action, or dialogue and notice how bit by bit the author is showing you who the villain is. Study how he/she hid the villain with layers of character shown through motivation and logic and how they all worked to play a role in the reveal. You'll learn a lot.
Who are some of your favorite mystery/suspense authors? Here, I'll go first. I remember the author who really caught my attention and the book: Mary Higgins Clark's Where Are The Children? I read that book in less than a day because I was so anxious to find out who the villain was and if the children would be all right. It was a real nail-biter.
Now it's your turn. ;)