Happy Halloween!!!
Seems like today would be a great day to talk about villains.
Who are the villains who have given you nightmares?
Ring Wraiths?
I loved Lord of the Rings, so the Ring Wraiths haunted me for a while. I don't think I'm alone. I remember when I saw the very first movie in the trilogy at the theater, there was a woman who stood up in the audience and screamed when a Ring Wraith appeared, though as the movie progressed she settled down. I'm sure they gave her nightmares.
When I was a little girl the ultimate scary guy was Captain Hook.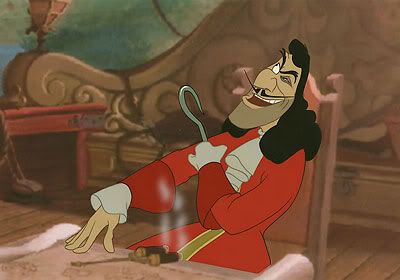 He seems very mild in comparison to other villains. But for a five-year-old who was nearly caught in his hook in Disneyland, he was terrifying. Obviously that was a long time ago.
I think one of the most scary villains I've seen lately was George Harvey in The Lovely Bones.
I had nightmares after seeing that film. Couldn't watch Stanley Tucci, who played that character, for a while either.
So how about you? Who have been the scariest villains you've seen in a movie or have read in a book?
We'll continue our discussion about villains Wednesday with a writing tip on how to write a scary villain.