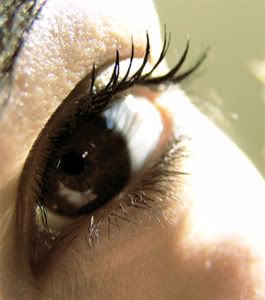 What do these eyes say? A writer knows how a character looks at someone has a ton of context around it loaded with feelings.
If a character looks away there's a reason. It can mean that the character isn't certain about what he/she is saying.
If a character gazes at another who is talking that could mean they're listening and depending upon the context of the story they may or may not believe what is being said.
And if the character who is talking looks directly at the person with whom they are talking, this could be a sign of certainty.
Sometimes an author feels challenged describing how a character sees. They are hemmed in with descriptions such as look, gaze, stare, glimpse, glanced, and etc., but remember it's the context of what is happening to the character within the confines of the story that reflects the intent of your character.
Your character may be open-eyed, droopy-lidded, or have squinting-eyes, but it's the feelings behind those eyes that tell the tale.
What are your main character's eyes like? What is the context of his/her gaze?