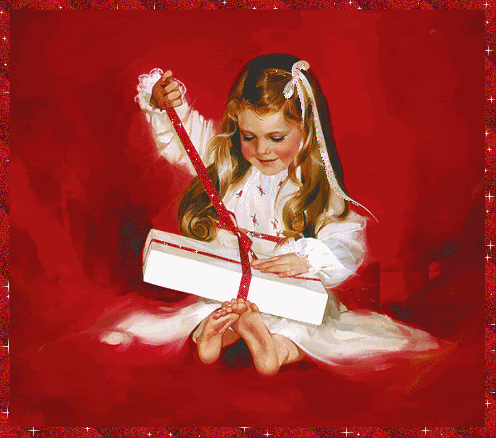 Sunday night my husband and I found ourselves sitting beneath our Christmas tree peering up at those dazzling lights, and we couldn't help but think over past holidays when our children were young. We miss the excitement and expectation of seeing Christmas through the eyes of our children. We're fortunate that our grandsons live close by, and we're able to enjoy watching them. Still, I look back over the years with fond memories.
We had lean times. I remember the first Christmas after my husband and I were married. Oh boy were we poor. I only had eight dollars to buy Bruce's present. I remember walking from store to store wondering what I could possibly get him. Nothing that I could afford seemed good enough for the man I'd married. I settled on an ID bracelet, but I couldn't afford to have his name inscribed.
The Christmas with our first child was an experience. Kristina was only seven weeks old, but I pulled her out of her crib at 6:30 a.m.. Poor little baby could hardly open her eyes. In my defense though, we had to go to my sister's that morning as well, so I had to get her up anyway. I remember propping my baby next to the doll we'd given her. The doll was bigger than she was, but baby Kristina was by far more beautiful.
I remember the Christmas my parents helped us make most of the gifts that Santa would leave: a dollhouse for Kristina, a cradle for Patricia's baby doll, and a rocking horse for little Ben, who was nearly two. We were working on them well into the night, but it was worth it. The children squealed with delight when they found what Santa had left them.
And then, there were Christmases spent in the mountains. My little family, my sister and her family and my brothers and their families all converged on our parents' cabin at Palisades. Those were wonderful times. What I enjoyed most about Christmas in the mountains was going outside to sing Christmas carols at night. The heavens seemed so close I felt as though I could reach out and touch the stars. The hush of the forest covered with heavy snow always made me think of the that night over two thousand years ago when nature grew quiet in reverence for the true meaning of Christmas.
This year the Church of Jesus Christ of Latter-day Saints released some beautiful new videos about the story of the Christmas. I thought you might enjoy them.
An Angel Foretells Christ's Birth to Mary
Mary and Joseph Travel to Bethlehem
Shepherds Learn of the Birth of Christ
The Wise Men Seek Jesus
Do you have a favorite Christmas memory?
What part of Christmas touches your heart?
I wish you a very Merry Christmas and a Happy New Year.
I'm taking time off from blogging. But I'll be back in 2012.